It's a little silly how happy it makes me to hear Alice Cooper sing lines like, "Please watch your step dear, the world is out to beat you/Don't you know there's cannibals designed to kill and eat you" over a snarling guitar riff. There has always been a large dose of kitsch to Cooper's work, a perfectly satisfying mix of rock and roll rebellion and haunted house theatrics. He's been able to keep that up for nearly fifty years, and he's in fine form on his new album, Paranormal, out 7/28. The line I quoted is from "Dead Flies," a slapstick broadside of modern times that includes, among other nuggets, the line, "Your phone knows more about you than your daddy or your mother."
Paranormal puts twelve new tracks together with six classics, including "No More Mr. Nice Guy" and "School's Out," recorded live in 2016. The bridge between them being two new songs recorded with original Billion Dollar Babies, guitarist Michael Bruce, bassist Dennis Dunaway, and drummer Neal Smith. It was also produced by Bob Ezrin, who also produced about a dozen of Cooper's albums, including those early landmarks School's Out, Billion Dollar Babies, and Welcome To My Nightmare. He also produced The Wall, which is obvious in some spots on this album (try not to think about the marching hammers from The Wall when listening to the ominous organ-and-guitar driven "The Sound of A").
Plenty of bridges to the past, and the realization that all the right things about Cooper haven't really changed. That musty, dreadful smell you get when you first enter a funhouse and everything goes dark, before the pneumatic hiss thrusts a ghost wrapped in chains at your cart – that's what you get in sonic form from the first chiming guitar arpeggio on the title track. "I'm condemned to the long, endless night," Cooper sings. Again, how happy that condemnation makes me. "And my shadow has lice of its own," he continues, "Watching you while you sleep all alone." Fast cars, big guitars, rats gnawing on human flesh, and maybe an occasional jazz hand. What more could you want from the man?
There's not a lot of sentimentality on the album. The Cooper character's take on romance? It starts with "Fallen In Love," which catches him looking back for a second, singing, "I was a billion dollar baby in a diamond vest/Now I'm a dirty desperado and a steaming mess," but the chorus, tongue firmly in cheek, is "I've fallen in love and I can't get up." Although a couple of songs later, he is head over heels on "Holy Water." And surprisingly inspirational. "You've got to sing it out/You've got to reach for the sky until you wring it out," he sings, "Kiss the devil goodbye/You got to wrap your arms around the woman you love/And raise your eyes to the lord above
There is a slightly noticeable change on "You and All of Your Friends" and "Genuine American Girl," the two collaborations with the old bandmates. The songs are a little grittier, from a sonic perspective. It's subtle, but it makes me wonder what the rest of the album might have sounded like with Bruce, Dunaway, and Smith. Maybe not better, but different.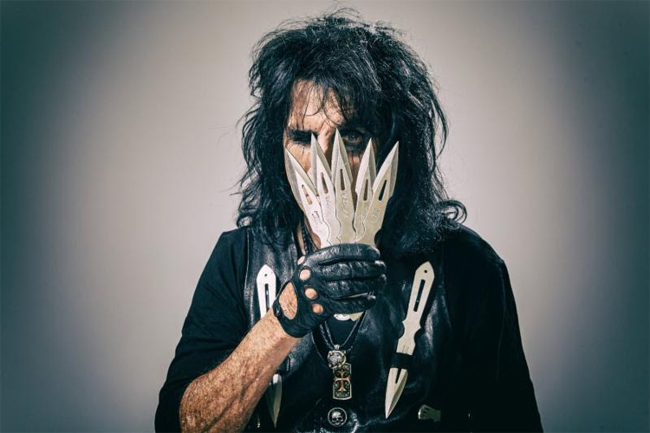 The message is consistent, though. "We're burning down your city/The message has been sent," Cooper sings on the final track, "This is how it all ends for you and all of your friends." And it's satisfying to know the old crew is back to bring down that final curtain.
A couple of points from covering comedy come to mind listening to Paranormal. Cheech Marin once said of Cheech & Chong that, "The reason we're so dangerous is because we're totally harmless." People loved Don Rickles because, even at his most offensive, there was no discernable malice in the man. That applies to Cooper, too. Yes, he may travel with a guillotine and a few gallons of fake blood. He may sing about things that go bump in the night. But it all works because that spark of good-natured mischief is always there. And I'm always happy to return to the nightmare.
Also New July 28:
Cars – Panorama (reissue)
Cars – Candy-O (reissue)
Jerry Garcia & Merl Saunders – Garcialive Vol. 9
Mick Jagger – "Gotta Get A Grip"/"England Lost" (single)
Elvis Presley – Boy From Tupelo: The Complete 1953-1955 Recordings
Katie Von Schleicher – Shitty Hits