MUSIC
1. Mega Bog – Happy Together
The third or fourth time I listened through Happy Together, Mega Bog's first full-length album since 2011's Freaky Dawn, I began to envision it as the soundtrack to an ambitious avant garde stage musical. The first strains of "Black Rose" are disorienting, like tuning a radio. Then singer/guitarist Erin Birgy sets the scene in a voice altogether too cheery for the music it's set against. "Hear the writer waver, too," she sings. "Walk down the stairs towards her office." Then the lyrics get tricky, like a nod to Sondheim's "Getting Married Today" from Company, while Birgy's speak-singing diction remains crisp and flawless. "Re-realizing a notion I thought had expired/That requires a kind heart." And then she hands on the note, singing, "So far." It feels like a dissolve from the image of a woman in a dark office to where the real story starts. Where it's going, it's hard to decipher, but the lyrics and the strange music are evocative. In a starlit room, we are introduced to "the spider's old girlfriend," who is "the spirit we all relate."
It keeps morphing from there. "Blackout" is more familiar territory, lush guitar pop, but keeps taking the vocal melody to unusual places. It all fractures again on "Diznee," noir-ish in the breathy sax-led introduction, and then futuristic and hip-shaking. And disturbing. "There's a man with a gun in his hand," she sings, her voice floating and dropping, "Says he hates my laugh//And he wants me gone." "Fwee" is a groovy… anti-torch song? "How could I have known/There's a person out there who means me no harm," she asks. She's back in Laurie Anderson mode on "London," all synths and sax. However experimental the music gets, it's always tuneful, often in a very classically pop sense. Burt Bacharach could have had a smash hit molding "Worst Way" for Dionne Warwick to sing in 1964. That's another one I can see in the stage musical, Birgy lazily walking down a garden path in her Sunday best, singing to herself while the scene she's describing – "And sugar/I never meant to leave you/Hang/I could have swore I pulled you out of the oven/I could'a swore I did my best" – plays out in contrast stage right. This is remarkable stuff. Odd. Imaginative. And toe-tapping, too.
2. Rose Cousins – Natural Conclusion
There is a t-shirt available on Rose Cousins' Web site that reads, "Rose Cousins Made Me Cry." That's her having a laugh about her musical personality (a good match for Ryan Adams' t-shirt, "I listen to Ryan Adams because I'm very emotional right now"). She writes immaculate and serene songs of heartache and self-doubt. And that's where she starts on her new album, Natural Conclusion. The song "Chosen" starts with a solemn drone of acoustic guitar, opening and unfolding as the narrator reveals more and more of herself. "This love is too much," she sings, "I am frozen/And I don't know what I have what it takes to be chosen." If there's a line that sums up Cousins' songwriting, she declares it on "Freedom" when she sings, "This quiet is full/This quiet is loud/And I'm sorting through what's left of us now/And I found freedom." There's no lack of tension in the quieter moments, and Cousins lives in that space. At one point on "The Grate," Cousins sings, "As the years turn my bones to dust/You change and I adjust." The sound is sparse at the beginning of the line, gentle piano chords and distant drums. But as she sweeps up on the word "adjust," the drums come forward, pedal steel moves in, the chords turn to arpeggios. The subtle change in atmosphere creates the storm. "Chains" is the most uptempo the album gets, and even then, it builds and builds but never completely lets loose, letting the groove taper off while the feeling of momentum is still pushing forward. It's no surprise that Joe Henry produced Natural Conclusion. There really ought to be some sort of subscription service for Joe Henry-produced albums. It's been established that there's no real "Joe Henry sound," that he wants to capture the essence of the artists as an individual. But they do have that in common, that individuality. And that's captured here.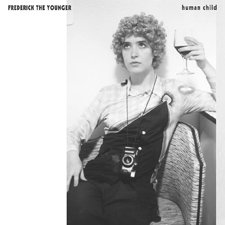 3. Frederick the Younger – Human Child
I keep coming back to 80s new wave and pop listening to Frederick the Younger's debut full-length, Human Child. It's something in the lush synthesizer pulsing in the center of the sound on songs like "LP," and in the crisp vocals of main singer Jenni Cochran. There's a bit of Toni Basil's attack when she sings "Tell Me," but that's present when Aaron Craker takes the mic on the XTC-like "You Take Your Time." The band's not so easy to triangulate. There's the melancholy dream pop of "Things are Just Things" and the wistful head-nodding "Not That Kind of Girl," which is centered on a clean electric guitar sound, heavy on the reverb, and gets a bit of bounce from some strategically-placed banjo. Cochran adopts a slight accent, regal, maybe, when she sings, "Do I delight in living on the cusp/Always one gust of wind away from giving up?" over the slinky groove of "Leaves Are Gone." And they hide the title track, mostly acoustic guitar and Cochran's voice, at the end of "Revolution," strident in posing the question, "Why does a revolution tend to swallow all its children?" Somehow, the Louisville quartet manage to make this all sound like part of a coherent whole.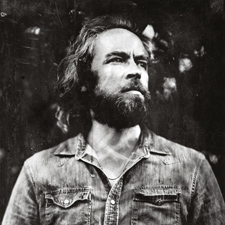 4. Duke Garwood – Garden of Ashes
Duke Garwood's sixth album, Garden of Ashes, is slow burning and ominous. The major theme seems to be, how do we make the best of watching the world burn together. He calls it "apocalypse love music." There's a kinship with Nick Cave in these songs, though the sound tends to be a bit smoother than Cave's, the arrangements a mood ring for Garwood's low, breathy vocals. The instruments emphasize the low end, the bass intertwining with tremolo and twang of the guitar, to match Garwood's understated delivery. There's a weight to the music that allows the vocals to hover, a kind of illusion of weightlessness. "When night calls and blows the lights out," he sings on the title track, "Before daybreak kills us yet again/Come take a walk with me/Through the ashes of this garden." Similarly, on the shimmering "Heat Down," he sings, "Together we'll watch as the fire planes fall/Holding tight, our knuckles white/Oh we can share this fear/Ease us down/Let us heat down." It's desolation, but it's always shared. It's hope for the hopeless. We're going down, but we're going down together.