MUSIC
1. Bash & Pop – Anything Could Happen
Tough to review a Bash & Pop album. Tommy Stinson already gave you all the important information in the name of the band. Write a bunch of great, hooky tunes, grab a guitar, and play it like it's dance or die. I'm still going to write about it, though, because the album makes me feel good and I don't need an existential crisis over a review. Stinson has said he disbanded first couple of line-ups of the band in the early 90s because they didn't have the chemistry he was searching for post-Replacements. That doesn't seem to be a problem this time around, with a core band of Steve Selvidge of The Hold Steady on lead guitar, Joe Sirois of The Mighty Mighty Bosstones on drums, and Justin Perkins of Screeching Weasel on acoustic guitar and backing vocals. The band bristles out of the gate with a rocking "Not This Time" and only occasionally let up on the tempo with the bouncy and Beatle-like "Breathing Room" and the ragged ballad "Can't Be Bothered." It's a great blast of rock and roll, with a couple of detours. "Anytime Soon," a darkly humorous tale of holiday depression on which Stinson sings, "No you won't see me dangling from these rafters anytime soon," would fit well on a playlist with Almost Blue-era Elvis Costello. After that gently, lonesome sound, the band is back to an aggressive boogie with the anthemic "Unfuck You," an ode to second thoughts. It kicks off with a kazoo that almost literally yells "wheee!" It's fun to shout along with. It'll make your day.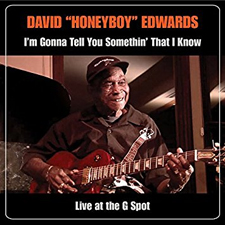 2. David "Honeyboy" Edwards – I'm Gonna Tell You Somethin' That I Know
Forget, for the moment, David "Honeyboy" Edwards's status as a blues legend, and all that goes with that. Forget this is the last recorded performance of a then-95-year-old man. This music doesn't need a legacy to recommend it. The sound is raw and the music is fine. You can hear the intimacy of the room – this could be any of a dozen neighborhood places a short drive from my front door. It feels as if you just walked in out of the cold or some personal fog, and it's time to take a load off. Edwards is relaxed and loose, and the band, sometimes just guitar and harmonica and sometimes a full rhythm section, is just trying to lay a foundation to let him do what he does. On occasion, they get a little lost. The beat slips on "Apron Strings," and it takes them a few bars to get on the same page. But that's all right, just makes it easier to picture some human beings on a stage playing. And it doesn't change what Edwards is playing and singing. He just rolls along. His guitar is understated and hypnotic on "Catfish Blues" and the stripped-down version of "That's Alright." There's just enough sting in his electric sound. It's got some bite, and it sizzles when he plays thicker chords, but he can still lay down a mellow vamp. And if you want to know the history, you can get a bit of that on the DVD, which includes the set and a Q&A afterwards in which he talks about playing with Robert Johnson and Sony Boy Williams, and tells a story or two. That's partially where the title comes from, but he says plenty with the music. (If you want to know a little more, start with Ted Drozdowski's 1998 piece for the Boston Phoenix).