MUSIC
1. The Flaming Lips – Oczy Mlody
The way Wayne Coyne described the idea behind "Oczy Mlody," it sounds like the concept for the Kids In the Hall classic Brain Candy. It's a drug, he says, at least in a metaphorical sense. "The drug uses you own sub-conscious memories and transports you to your perfect childhood happy mind," he writes in the press notes for the album. It's part of the Flaming Lips ongoing day-glo circus, part Syd Barrett of Pink Floyd and part psychedelic rapper A$AP Rocky – two sounds he says could only come together in the Flaming Lips framework. You could see this in the video for "How??" they released in November, which was an explosion of color and oddity. The song has a trancing groove with a deep bass and drum track that sounds like it's reverberating from the bottom of a concrete pool. The pulse is slow but there are synths throbbing and high-hats clicking, trying to push the beat forward. And that fits with the lyrics. There's a sense of desperation, of pushing for something that's clear in the mind and indescribable, a vision of everyone reaching their most beautiful potential at once and leaving behind pre-conceived notions. And not everyone will make it. "I tried to tell you, but I don't know how," sings Coyne.
And that's just the establishing shot. That's the place Coyne wants to take us. He's more than happy to show us around. It's a place where, as the title of the song suggests, "There Should Be Unicorns," where there are Amazonian strippers partying with police and where you can eat the butterflies with ketchup. Then Reggie Watts shows up sounding like James Earl Jones describing an acid-drenched utopia, and it makes perfect sense. There is both beauty and menace in this world the Lips created. Not all of it is abstract, either. Coyne based the lyric "have you ever seen someone die in the summertime" from "Listening to the Frogs with Demon Eyes" on a real-life experience driving past a house with police cars and ambulances out front. But he doesn't chronicle that experience, he rolls it up with other strange bits – like a photo of his dog in which the flash turned its eyes red – into a stream-of-consciousness, seven-and-a-half-minute lava lamp of a song. That what's this album, and to a larger extent, Coyne and the Lips, are all about – the sparks from tossing disparate ideas, aural or lyrical, together and letting them create something larger and more mysterious than the individual pieces. It's the twangy guitar paired with a sweeping string section on "The Galaxy I Sink." It's a song called "One Night While Hunting for Fairies and Witches and Wizards to Kill" that starts out with a guy grabbing his gun and looking to shoot out the brains of a mythical being, then reveals a message of healing and forgiveness before becoming a (potential) love song in the last line. And it should probably go without saying, but this is a fantastic headphones album. Break out yer cans and take the iPod someplace peaceful for an hour.
"How??"

"Sunrise (Eyes of the Young)"

2. The Mollochs – America's Velvet Glory
The Molochs brought me into the fold quickly back in November when they debuted the video for "No More Cryn'," which had a 60s throwback look to match the feel of the song. When I asked singer/songwriter Lucas Fitzsimons about it by e-mail, he said he was eager for people to hear the rest of the album, because "No More Cryin'" was kind of a one-off. There's a 60s influence, he said, but "it goes deeper than the so-called '66 sound of this first single." That's certainly true. "No Control" has the bounce and maybe even the guitar sound of a classic Monkees tune, but Fitzsimon's vocal gives the song the kind of chip-on-your-shoulder cool that Pavement perfected. Of course, the Stones have been doing that for decades. There are plenty of classic-rock-sounding musical moments – the minor chord vamping on "Don't Love You," the Farfisa-like organ on the wonderful "Charlie's Lips," the ragged swing of "New York." But more than anything, it's the band's swagger that harkens to a time when Dylan went electric and the Animals were on the charts. They've captured that spirit, beyond any particular sound. It's innate to the Molochs, and that's what lifts them far above any tribute-minded peers.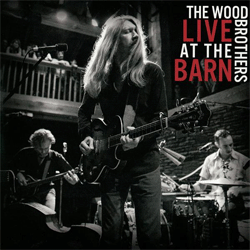 3. The Wood Brothers – Live at The Barn
If you are unfamiliar, "The Barn" in the title of this album refers to the place in Woodstock, New York, where Levon Helm rebuilt his career with his Midnight Ramble shows after throat cancer robbed him of his voice. Helm eventually lost that battle, but he won the war. The place is still open, and there's magic in the place. The Wood Brothers agree, and they should know. The trio played some of those shows, and in August of 2016, returned to The Barn for their first show there since Helm's passing in 2012. It makes sense. The Wood Brothers make rootsy, funky music, and listen to those gorgeous harmonies on "Mary Anna" and "Who the Devil." "Honey Jar" grooves like mad. The howling cello solo on the bluesy "Trouble In Mind" is a fun curve ball. It's clear why they're attracted to Helm's music. They dedicated "Postcards From Hell" to him, and tip their hat with their set closer, an electrified take on "Ophelia." I can see Levon behind the kit, in a pressed white shirt and his black drummer's glove on his left hand, smiling.
COMEDY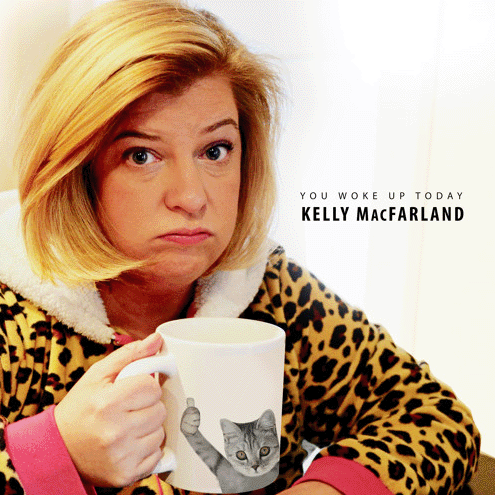 1. Kelly MacFarland – You Woke Up Today
I have had the privilege of seeing Kelly MacFarland kill on many a stage around Boston over the years. I would say her enthusiasm is contagious, but that's not quite where she's at. In her comic world, she is frequently puzzled at the enthusiasm of others. About hiking, waking up early, wedding dresses, your child, center-pieces, going out for a weekend with the girls, the miracle of birth, and hot dips. All of it has been brought to her doorstep with broad smiles and ballyhoo. And if MacFarland had to put on pants to see it, it wasn't worth it. She talks about getting a call from a friend early on a Saturday morning from a friend who is way too happy about being awake. "Have you been outside?" they ask. "No, I made it inside last night." She was proud of herself for getting up and out of the house early one day, only to meet an insipid over-achiever at the Dunkin Donuts. "I've been knitting a sweater while we've been talking I'm wearing it now," said the soccer mom with cocaine intensity, much to MacFarland's chagrin.
There is a cheerfulness to her skepticism. If there's an audience she can't win over, you probably don't want to know those people, anyway. There is no ingratiating self-deprecation in her, nor is there any ironic self-aggrandizing. A lot of comedians use those things to draw an audience in, to establish an immediate intimacy. And they are fine tools – no criticism of them here. But MacFarland has a natural confidence and self-acceptance the serves that same purpose. She rocks her mom haircut. She's not a swinger, but if you've got pizza, her mind is open. She'll eat a sub waiting for the saleswoman at David's Bridal to help her. And when someone has the audacity to tell her, as an older bride, "Well, good for you, someone finally caught you," she has the confidence to say, "Do I look like I've been running, bitch?" And what follows that is a hilarious rant about how she's been trying to lure dumb men to her open window with fresh-baked pie so she can knock them out and force them to marry her. You know, like any middle-aged single woman would. This is no substitute for seeing MacFarland live, which you should do, but it makes a fine introduction for the uninitiated and funny refresher for everyone else.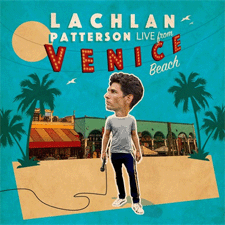 2. Lachlan Patterson – Live from Venice Beach(Released January 6, special on Seeso)
Comedians like Brian Regan, Jim Gaffigan, and Paula Poundstone make observational stand-up look effort. Don't believe it. It's tough. You are often drawing from a pool of premises that has been drained dry and trying to add your own voice to it. Lachlan Patterson is mostly successful at this on his latest album, Live from Venice Beach. Where he does falter, it's mostly because he's echoing someone who already has a similar riff. He's got a bit about not cleaning your teeth before you go to the dentist in which he mentions eating Oreos. "I don't clean my house before mom comes over," he says. Decent line, but Steven Wright has a fantastic bit about eating Oreos before he goes to the dentist because his dental hygienist is cute. There are a couple of moments like this on the CD – he talks about how old people like to write checks when there's a line at the store, and how he doesn't like reading because he'd rather watch a movie. He doesn't quite put enough new spin on those things to get past the stuff we've already heard.
But there is a lot more good than bad. Patterson has a relaxed, nicely-paced cadence that helps the punchier stuff, when he raises or changes his voice, to stand out that much more. And there are plenty of good jokes. He says the perfect way to end a relationship is for a man and woman to go paint shopping together. "What women don't realize is that men can only see about twenty-five colors," he says. "Which is enough, by the way. That's plenty." There's a fun tag about identifying crime suspects with fancy color names that leads to a smart callback on "Gun Face." He talks about how, contrary to popular opinion, sex gets better the longer you're with someone. It's much more efficient, he explains, using his own relationship as an example. "We have managed to narrow it down to one position that we are just going to keep on doing for the rest of our relationship." They undress themselves on opposite sides of the bed now and charge their cell phones. It's great. He also finds it strange that scientists test things meant for humans on guinea pigs, and we're fine with it. "Worked on the guinea pig? All right, bring in Karen!" These are the better jokes on the album, and the ones that feel more unique to Patterson.