Since I launched this blog in March, I have tried to write about as many wonderful things as I can, in essays, the podcast, and every Friday in the New Release Roundup. Try as I might, I can't write about all the good stuff coming out. This is the final entry in my attempt to correct that for this year, though I plan on doing this annually. For the next ten days, I'll be highlighting albums I missed in 2016. To cast an even wider net, I've enlisted some talented friends to write about some of their favorites this year. You can read that here.
1. The I Don't Cares – Wild Stab
This groovy little rock and roll nugget was slipped out by two writer/performers who decided not to put their names on it (but that may or may not be Paul Westerberg and Juliana Hatfield smiling behind the liner notes – shhh!). It seems to have been kind of a blip on the radar this year, received well, and then put out of mind. Which is a shame, because there are so many great hooks and fun lines in the songs. But then, the whole point seems to have been to have a bit of fun, not overthink it, and move on. Their sensibilities are well-matched. They both write songs that are ragged and tuneful, and they can turn off their more sarcastic instincts to come up with something as adorable as "Kissing Break" – about putting work aside for a little bit o' smoochin' – and sing it like they mean it. Or something utterly silly like "1/2 2p," which contains the lines, "When you call me baby/I need to find an alley/Your voice always makes me have to pee." It's an extremely catchy song, helped out by the fact they are literally singing the alphabet at one point. Westerberg is the charming cad on "Sorry for Tomorrow Night." Rave-ups like "Done, Done, Done" and Hatfield's cool, tough "Dance To the Fight" fall somewhere on a spectrum between Chuck Berry and the Ramones. I'm glad, in a way, that I'm only getting to write about this one now. For anyone who missed it, pick it up. And for those who got it the first time around, give it another spin. It already seems like an old friend, one you'll be happy to keep rediscovering.
"Kissing Break"

"Dance To the Fight"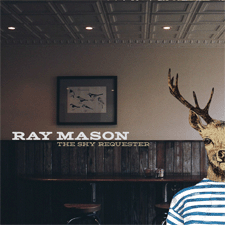 2. Ray Mason – The Shy Requester
Ray Mason has been making genuine D.I.Y. rock and roll for decades out in central Massachusetts. He started his first rock band in 1966 and he's been playing his green Silvertone electric guitar through a Peavey amp since the early 80s. And that's the essence of you get here – Mason and his Silvertone playing classic-sounding tunes and singing in his Neil Young-ish voice, with a few overdubbed vocals and a guitar or sax solo or two. It always feels like you should be listening to Mason on vinyl, or more specifically, 45s, maybe with a few close friends on the hi-fi in your living room. All the sides get mixed up. Rock, country, soul. Whatever fits the mood of the moment. There is a sense, on some songs, of the sounds Mason loves slipping away, most explicitly on "Who's Gonna Play Like That." It's a love song to a lost musician, with a simple, muted guitar line, just a few lines repeated. It's especially resonant coming in a year when we lost so many good musicians. "In this world full of covers and tributes," he sings, "he was one in a million, a real true find." Mason also celebrates things other rockers might be too cool for. You won't hear a lot of rock songs about someone happy to see the regulars out grocery shopping, but that's what Mason does with a smile on "Supermarket Friends." "Little baby Ruth she's with her mama named Claire," Mason sings, "I'm gonna shuffle over just to say how much I like Claire's hair." And if you do happen to hear someone else sing an ode to food shopping, it probably won't be in the same collection with a mysterious crime noir tune like Mason's "Leroy Saw Me Do It." It was Leroy who saw the narrator hide the gun, though we are never told what crime may have been committed. There's also a toe-tapper about sticking to your vices called "I Gave Up Giving Up Drinking," on which Mason sings, "I gave up giving up drinking/Don't mind comin' home stinkin'/Guess I'll write my name in some newly fallen snow." It gets stuck in your head. Just don't let your sponsor hear your singing it. Mason also sticks the landing with "Vividly," the 55-second closing tune and the only one played on an acoustic guitar. It's just four lines long, but it captures perfectly the soul of someone looking back with joy, with a subtle realization looming in the background that they are on their way out. "When the menu's being held about a foot away/And my night vision has started to fade," Mason sings. "The one thing I'll remember so clearly to see/Is this picture of you/Vividly."