1. Sam Phillips – Human Contact Is Never Easy
Sam Phillips's new EP, Human Contact Is Never Easy, is a gorgeous bridge between old and new. There are four songs from her upcoming album, World On Sticks, due in 2017, a couple of classic tunes performed live, and two tracks from 2013's Push Any Button. Her fans have probably been a bit hungry while Phillips has been recording the new one and working on new songs for the Gilmore Girls reunion (the interstitial "La La" songs, as the fans call them). But this is not a hodgepodge dashed together to toss to fans. These eight songs work well together to show the breadth of Phillips's palette and the depths of her abilities as a songwriter and performer. She shimmers on the live tracks, "Reflecting Light" and "If I Could Write," her voice and acoustic guitar supplemented with spare piano and swelling strings. The two songs from the last album are tirelessly catchy, worth another look. And the new stuff is cut from the same cloth. "World On Sticks" is a slinky, Tom Waits-like stomper, drums up front and Phillips's sly vocals. There is quiet strength in "Candles and Stars," which stands up well on the same album with a more classic tune like "Reflecting Light." "If only with candles and stars," she sings, "Broken light from dreams like ours/We will still find our way to love." The short and sweet "Walk Don't Drive" is a kind of "La La" song – sounds like it could be cut right from the Gilmore Girls soundtrack. Phillips is distributing this one on her own, and you can buy it directly from her for a bit cheaper than other outlets. And I'm betting she gets more of the profit, too, so click here to support the artist.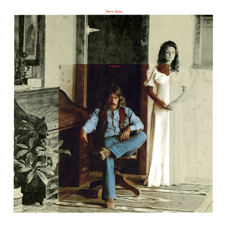 2. Terry Dolan – Terry Dolan
There are times when I think I might have a reasonable grasp of some portion of the great music floating around out there. But it's not the norm. Usually I feel hopelessly, maybe happily, behind. Albums like Terry Dolan's 1972 self-titled work reinforce that notion. And albums like this are also why I never want to stop writing about music. There is always something more out there, whether it's brand new or something that's been buried for decades. This is tasty stuff, and I had no idea it existed until about a month ago, when I started getting press releases. These songs should have been all over the radio with contemporaries like Elton John, The Band, and the Rolling Stones in '72. Dolan had regional success in San Francisco with his demo for "Inlaws and Outlaws," and this album surely would have capitalized on that nationwide. But Warner Brothers shelved it, so this is the first chance the public has to really dig into it. "See What Your Love Can Do" and "Angie" would have made fine additions to Goodbye Yellow Brick Road. The organ and horns flavor "Magnolia" with a touch of Garth Hudson and Allen Toussaint. It's soulful, rootsy pop, ornate and well-produced – exactly the kind of thing that people seemed to be craving around the time it was made. It boggles the mind why we're just hearing this in 2016, especially sad since Dolan passed in 2012. But at least it's not lost anymore.