Frank Zappa – Meat Light, Chicago '78, Little Dots
Frank Zappa has been more prolific in death than most musicians could ever hope to be if they lived for 100 years. The Zappa vaults are stuffed with unreleased material, and it doesn't look like the Zappa Family Trust is going to stop combing through them anytime soon (there is at least one more stated upcoming release, a 7" to commemorate the 50th anniversary of Zappa's first single, "How Could I Be Such A Fool," with the b-side "Help I'm A Rock (3rd Movement: It Can't Happen Here)" coming on Record Store Day November 25). There are three new releases available today – the three-disc Meat Light, the double live Chicago '78, and the live Little Dots. It's a lot of one day, and should keep the Zappa-obsessed busy for a while.
Meat Light is part of the Project/Object series, which takes the approach of a kind of audio documentary to specific albums, in this case, Uncle Meat. Light includes the original 1969 vinyl mix of the album, plus Zappa's original sequence for the album, and some outtakes and unreleased tracks. Uncle Meat is a great keystone for understanding what Zappa was capable of as a musician, songwriter, and satirist. Which is to say, it's tough to pin down. There is Zappa's interpolation of R&B on "Electric Aunt Jemima," the frenetic, cacophonous jazz of "Prelude to King Kong," the trippy "Mr. Green Jeans," the regal instrumental "Dog Breath Variations," a live goof with the band playing "Louie Louie" utilizing the organ at the Royal Albert Hall, skittering interstitials like "Zolar Czackl," and a few improvised bits of dialogue. It's still amazing that all of these things sprang from one person's imagination. Zappa's original sequencing, which swaps in a few different tracks, makes a more whimsical first impression, kicking off with "Dog Breath, In the Year of the Plague" and "The Legend of the Golden Arches" instead of "Uncle Meat Main Title Theme" and "The Voice of Cheese." It also adds a couple of heavy guitar blues tunes in "Whiskey Wah" and "The Whip." The 1969 vinyl version feels more formal and theatrical.
The third disc has all the outtakes and oddities. There are different takes on "Dog Breath" – including a three-minute "single version," an idea that tickles me – and a version of "Nine Types of Industrial Pollution" that isolates the guitar, barely recognizable as the same song, slowed down to normal speed. Some tracks, like Zappa coaching along a sax part on "Green Genes Snoop" or people yelling "More Beer!" are more amusing than revelatory. You wonder if some of it was ever intended to make the final cut, and where it would have fit. There is one striking bit in "Echo Pie," which is just Zappa arguing with the rest of the band about touring and finances (one funny bit there when someone says, "Nobody's listening to it in there, the monitor's off.")
Little Dots highlights the short-lived, brass-heavy ensemble Zappa toured with in 1972 which is referred to as the "Petite Wazoo" (a reference to the Grand Wazoo album, released that year). It's being billed as a sequel to the Imaginary Diseases album, which draws from the same material. The line-up is Malcolm McNab and Gary Barone on trumpet, Bruce Fowler and Glen Ferris on trombone, Tom "Bones" Malone on trumpet, piccolo trumpet, trombone, bass trombone, tuba, saxophone, and flute, Earle Dumler on woodwinds, Tony Duran and Zappa on guitar, Dave Parlato on bass and Jim Gordon on drums. And they were a fantastic unit. Parlato and Gordon stand out on the title track, which starts out with just the two of them in a kind of double solo that sounds so much fuller than just two people playing. Gordon adds a bit of steel drum to augment the melody at times. The rest of the band begins to fade in around minute six, and then the tune morphs into a blues boogie after eleven minutes and continues as a solo feature brass and guitar. "Columbia, S.C." is similarly broken into two parts, but this is a band tuned into each other improvising a new piece from start to finish (though they do borrow heavily from the "James Bond Theme"). Everyone follows the dynamic and melodic shifts well enough that it doesn't seem improvised. These guys could go off the rails or dig in and play nasty, like they do on "Kansas City Shuffle." The highlight for the historians will be a looser, bluesier incarnation of "Cosmik Debris," recorded before the one on the Apostrophe master.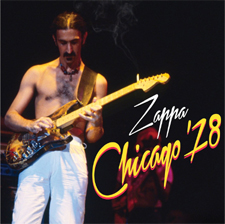 Chicago '78 is a previously unreleased, complete live performance from the Uptown Theater. There are metric tons of Zappa live performances out there, but not many that capture one line-up playing a complete show (Zappa mixed and matched line-ups, sometimes within a single song, on many of the live albums released during his lifetime). For the record, this was recorded September 29, 1978, and it's the second of two shows the band did that night. The band is as loose as it is precise – a combination that makes so many Zappa live albums appealing. And there are some admirable takes on standards like "Dancin' Fool" and "Don't Eat the Yellow Snow." For me, the centerpiece is a sprawling twelve-and-a-half-minute version of "Yo Mama," which is an earworm I wind up singing to myself in traffic sometimes, especially when people are driving dumb. The lines just pop out — "Maybe you should stay with your mama/You're really kinda stupid and ugly, too." Plus it offers helpful advice — "You should never smoke in pajamas/You might start a fire and burn your face." This arrangement slows into a sparse, atmospheric guitar solo before building into something more aggressive, and returning for a brief verse at the end. Zappa's broadside against religious fundamentalism and ineffective government, "The Meek Shall Inherit Nothing," is still hitting its target decades later. Unfortunately, that target is extremely durable. And the undeserved swagger of "Honey, Don't You Want A Man Like Me" is still funny, and also unfortunately still relevant. That might actually be a good title for a future vault collection of Zappa's satire – "Unfortunately Still Relevant Songs."