MUSIC
1. Shovels & Rope – Little Seeds
When I first saw Shovels & Rope live, I had the same thought I'm sure a lot of their fans had their first time – how is the huge sound coming from just two people? It's often just one guitar and drums, and two voices, supplemented occasionally by harmonica or some keyboards (played by whoever's on drums). Of course, in the studio, they can flesh things out a little more. But on Little Seeds, you can really hear how powerful Cary Ann Hearst and Michael Trent are together. It all starts with the harmonies. Their voices are perfectly matched, and they both sing like they're about to be raptured, whether it's an old-timey sounding ballad about gratitude like "St. Anne's Parade" or a flat-out rocker like "Invisible Man." The first two singles (as much as anything is actually a "single" anymore) made this an album to look forward to. "I Know" has that mile-wide fuzzed out guitar sound (think "Spirit In the Sky") and lyrics that kind of a sympathetic kiss off to a competing band. "I know exactly where you got that sound," they sing, "See I was at the same shows that you used to hang around/I know exactly where you got that sound/See you in a year on your way back down." It's all good, though. "Call it even, baby, take a bow." The more frantic "Botched Execution" came next. It's the perfect Halloween story, too. Literally, the story of an outlaw who escaped after their execution didn't take, and how they're on the run with no hope of proving their innocence (mostly because they're not innocent). Dig this eerie little couplet – "The body's in the closet 'cause I never got to move it/Now the neighbor kids are talking, saying 'Everybody knew it.'" Hard not to appreciate a tribute to Garth Hudson, possibly the most underappreciated member of The Band, on "The Last Hawk." "From my piano bench I saw it all," they sing, "From the great ascension to the mighty fall."
There's some adventurous stuff on here, musically and thematically. "BWYR" is a stunning plea for equality. There's a kind of friction in the way Hearst and Trent's voices intertwine and echo, with a spacey delay effect, over a droning acoustic guitar. "Black lives, white lives, yellow lives, red," they sing, "Let's all come together and share the bread/Let's all join hands and share the dread/Black lives, white lives, yellow lives, red." The album is capped off with "This Ride," a tribute to friend who died while they were finishing off the record. It's introduced in a separate track called "Eric's Birthday," which is their friend's mother telling a story about how he was born in the back of a police car over a fingerpicked acoustic guitar and some hand claps. "This ride," they sing, "what a ride." Simple and direct, exactly what's needed. Makes you feel spent and exhilarated. That's what Shovels & Rope do best.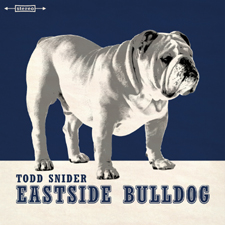 2. Todd Snider – Eastside Bulldog
Eastside Bulldog is only kind of a Todd Snider album. The music here belongs to his alter ego, Elmo Buzz, whose philosophy is rooted in the question, what if I were a jackass who loved Hank Williams Jr. to the exclusion of all else and would shove a beer funnel up the ass of anyone who disagreed? Snider created this country rock bro somewhat by accident. He wanted to fill up his live schedule a bit more, but couldn't play bigger venues and smaller venues in the same locale under his own name (pesky contracts). Since he needed to create another name, he decided to create another persona. And figured that guy should play his own music. He would sing odes to his idol ("Bocephus"), make up his own awkward dance anthem at least partially inspired by a sobriety test ("The Funky Tomato"), and disdain anything that didn't have to do with partying ("Hey Pretty Boy") or fighting ("Enough Is Enough"). Because he is a method actor, Snider wrote these songs surrounded by judgment-impairing implements shared with his band and a bunch of friends, singing whatever came to mind. It's loose and goofy, a rough caricature of bro country rock. And despite Snider's best efforts to make meathead music, he turns in an album of first-rate ass-shaking rock and roll boogie and blues with some clever lines. The shambolic rave-up "Check It Out" stumbles with a false start, then hits you with the groovy Zen koan, "This song is even better than it sounds." One of many tributes to East Nashville, "37206" flames up and burns out in just under two minutes. The only word in "Peter Gunn"-like "Bocephus" is, well, "Bocephus." And Snider did see fit to list the lyrics in the liner notes. A nice workout for your sense of rhythm and your sense of humor.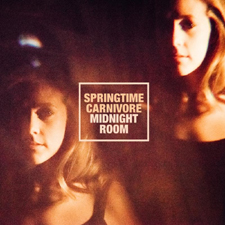 3. Springtime Carnivore – Midnight Room
The roots of Midnight Room, the new Springtime Carnivore album, twist in some interesting ways. On the surface, it's the type of bouncy, dreamy pop that might have been the coolest part of a John Hughes movie soundtrack a couple of decades back. Think Psychedelic Furs "Pretty In Pink" or The Thompson Twins "If You Were Here." But there's also an Americana or folk element that's harder to pin down. Maybe it's in the strummy acoustic guitar that's the engine of "Midnight Room" and "Nude Polaroids." Or maybe it's something in Greta Morgan's voice. There's a light twang that shows up from time to time. It's full-bodied, but it can float above the music, too, and she can use that range the way k.d. lang might, to push or pull a song along. You can hear that when the verse moves to the chorus in the title tune, how she drifts with the lush pop arrangement, gives the chorus a jolt, and soars with the bridge. There are some sublime lyrical moments on the album, too. Swirling in a gentle but insistent rhythm, the narrator on "Nude Polaroids" breaks it off with her lover, but tells him he can keep the nude photos, because she trusts him. She's trying to leave without destroying the memory of their passion, and give him a little hope. "The good love will come, but here's the bad love first," she sings. "The good love will come, but tonight's gonna be the worst." Similarly, the narrator on "Rough Magic" speaks of a "broken fantasy," a kind of love that "most people never see," but one that turned sour. And Morgan sticks the landing, ending with the line, "The final time you leaned in close your eyes went from blue to black."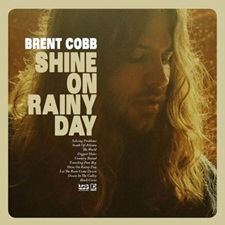 4. Brent Cobb – Shine On Rainy Day
Brent Cobb already has a lot going for him, career-wise. He's written songs for bigger-name artist like Luke Bryan and Kellie Pickler. His cousin is Dave Cobb, one of the hottest producers around (when I spoke with Dave for Ep3 of the Department of Tangents Podcast, we spoke a bit about Brent). And now he's got even more going for him as an artist with the release of his debut full-length album, Shine On Rainy Day. Cobb hews closer to songwriters like Rodney Crowell and Roger Miller than the stars he's written for. There's a good deal of polish, but that comes from having written and played music since he was a teenager. And you can hear the Georgia accent in his warm voice. But there's a deep sense of humility in Cobb's music, and the song's the thing. The words matter, and Cobb keeps it earnest and austere. On the expansively titled "The World," the narrator is looking back on the love of his life and marveling at all the places it could have gone wrong but didn't. "Suppose it was a different song," he sings, "suppose I woulda loved you wrong/No tellin' who we might be without you and me." On the flipside of that, there's "Diggin' Holes," about a hapless guy who can't do anything right. "I ought to make my living in a graveyard," he sings, "Lord knows I'm good at diggin' holes."
When a country singer sings an ode to a simple life in a simple town, there's often something a bit standoffish about it, something self-congratulatory. Cobb avoids that, to beautiful effect, in "South of Atlanta." The closest he comes to that kind of comparison is, "When the whole world goes crazy there's one place that won't." But that speaks more to how this small town with its gentle winters and kind people comforts the singer and keeps him hopeful than any red state/blue state putdown. His characters might enjoy a beer and appreciate Old Glory, but you won't catch them puffing up their chests for the chicks at the tailgate party. "Gonna ride until my ride quits riding," he sings on "Traveling Poor Boy," at his most Roger Miller like, "Then I'm gonna walk until my boots walk off/Yes I'll be a site when I get where they're looking mean and light/But tonight I'm feelin' free and friendly, barely scapin' change, wavin' goodbye."