COMEDY
1. Joe DeRosa – You Let Me Down
The funniest, most startling bit on Joe DeRosa's new album, You Let Me Down, comes after he's already talked about how he doesn't care about the Olympics, thinks people who achieve anything or pieces of shit, and explained how to be a successful serial killer. He asks an audience member if he's scared of dying, and the man says no. DeRosa is surprised. In his 30s, he had the realization, "What the fuck? You can just die?" There is no strategy. No one is playing poker with death – they're playing bingo. No rhyme or reason. That's why, he says, the phrase "your number is up." It's a shock laugh in the best possible way. It's a simple, indisputable truth that is nonetheless maybe you weren't expecting to confront reduced to its essence – "You can just die." And then creep out your friends at the open-casket funeral nobody wants. DeRosa imagines he's not going to look great at his funeral. "I live alone, which means they're not gonna find me for a while." He hopes a friend and a stranger find his body, just for the awkward moment when the friend has to explain that, no, Joe's pretty much always looked like that.
There are a bunch of funny, enlightening moments on this album, amongst some just plain angry litanies. He starts off the album bemoaning the fact that we can't just punch people in the face when we feel like it anymore. The Olympics? Fake sports. "People throwing shit," he says. "I don't care." And if you have the drive to achieve, it probably makes you an insufferable person. "Never try to achieve ever," he says. "It makes you a bad person." His proof? Would you ever want to hang out with the person who owns your office? The curmudgeonly anger can be amusing, but DeRosa is at his best when he is the most personal. He's an enthusiastic supporter of therapy and Prozac. They are signs you're working on yourself and trying to be a better person. "That stigma is bullshit that they get," he says, "it's good for you." He admits that he's not the most congenial guy you'll meet now, but he used to be miserable. That changed when Prozac made him not only realize that he was an asshole, but also gave him the insight to realize, that's fine. That's who he really is, so screw those other people. No apologies. No more anxiety. Those are the moments that make DeRosa more than just an angry comic.
MUSIC

1. Chandler Travis Philharmonic – Waving Kissyhead, Vol 2 & 1
It's hard to pin down just where Chandler Travis is from. Sometimes he sounds like he's from New Orleans. Sometimes he sounds like he's from the 60s. Sometimes he sounds like he's from outer space. Whatever else he might be, experimental or goofy, he is at heart an ace tunesmith able to synthesize disparate elements into a beautifully cohesive pop tune. Take "The Strongman of North America." It starts out with a vaguely Caribbean groove, and it busts into a sweet pop rock chorus. The bridge is marching and joyous, propelled by "ohm" background vocals, a variety of percussion, and topped with vocal harmonies, and then fades back into the groove to start all over again. The bridge repeats and morphs through the arrangement, sometimes letting Travis tell the story in engaging spoken-word segments. And oh yes, there's the story, a fable about a kind of superhero who finds maybe it's better to be saved than to save. "While I'm not the man I was," he sings, "Here I am because/I once was the Strongman of North America." It winds up being a sincere and touching love song. The only other band I can think of that's capable of this kind alchemy on a consistent basis is They Might Be Giants.
Travis is able to steer his Philharmonic in seemingly any direction his whims might take him. The engine that drives "You Got Me Started" is charging ska, with off-kilter piano runs and a Motown-worthy horn breakdown after the chorus. "Maybe This Is Our Year" is popping with optimism with a loose New Orleans flavor, a party for horns, organ, and accordion. "Maybe this is our year," Travis sings, "'Cause there's a chance we're not dead quite yet/Maybe this'll be different/Let's give it a shot." He returns to that style on "Grand Rt St John," and on the classic-sounding ballad "When the Moon Shines," slinky clarinets mingling with sad trumpets. Then there's the sludgy rock of "E," a history of musical chords in which Travis blames the "C" chord for radios, morning shows, desperation, shininess, exercise, and skiing. "Untitled" would tuck neatly into just about any Ben Folds album, with its "The musical is starting!" piano intro and its brag that the song is so good, it doesn't need a title. "'Big Boxcar,' 'Slow Sandwich,' 'Blue Sandbar,' can't pick which," Travis sings. "By the Way" is rough and jangly rock that would make Paul Westerberg jealous, with McCartney-easque strings in the B section. "Sure Gonna Miss You" is a lush, bittersweet ballad with a sound that fits that point in rock history when the 60s were emerging from the 50s, before the Beatles got "weird." There are seventeen tracks on Kissyhead, and I could write a novella for a review, so I'll stop here. But I could just say this, if you like your rock music melodic and inventive, you should get to know Chandler Travis.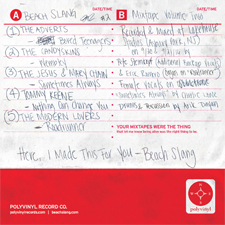 2. Beach Slang – Here, I Made This For You (Beach Slang Mixtape Vol. 2)
When I heard the opening chords of Beach Slang's cover of "Sometimes Always," it brought me back to my college DJ days, when I would sometimes play this nugget from the Jesus and Mary Chain. I could picture the video playing on my TV, the one that now seems impossibly bulky, in my dorm room. It's really a perfect cover – a song a lot of people are going to know, but probably haven't thought about in a while. An EP of covers has an obvious sentimental and nostalgic element, and Beach Slang's Here, I Made This For You Vol. 2 has that. But they spread the fun around over a few decades. "Sometimes Always" is from 1994, The Candyskins' "Wembley" from 1993, and there precursor Tommy Keane's "Nothing Can Change You" from 1989. But there are a couple of 70s classics in there. The Modern Lovers' "Roadrunner" from 1972 and the Adverts' "Bored Teenagers," which, incredibly, was released in 1978. They all sound fresh on this EP, bristling with energy. A bonus if you're from Boston, they're version of "Roadrunner" could have sounded kind of clichéd, but they tear into it. And hopefully their version of "Nothing Can Change You" will send people back to the original.