MUSIC
1. Ty Segall – Ty Segall
Ty Segall has been rocking like it's 1969 since 2008, releasing a torrent of albums thick with fuzzed-out guitars and psychedelic flourishes. His latest is a self-titled album, as was his debut album. He's had nine years between the two to perfect his approach, and the result is a more focused freak-out. This album is sonically deeper than its predecessors, thanks in large part to legendary producer Steve Albini. If that tense blast of discordant guitar in "Freedom" sounds like Surfer Rosa-era Pixies to you, that might be because Albini also produced that album, too. These ten tracks were recorded live with his backing band, and that only adds to the throwback feel – it sounds like musicians in a room reacting to each other. Especially on the long jam, "Warm Hands (Freedom Returned)," which clocks in at 10:23. It's got the same kind of energy as the live stuff on the second LP of Cream's Wheels of Fire. Segall's music through the prism of Albini's production is a powerful thing. "Break A Guitar" and "The Only One" are relentless guitar-pounders. But there are more delicate touches, too. "Papers" comes on like Syd Barret-led Floyd with a wonderfully strange and melodic chorus, "My papers they depend on tape/I stuck them to the wall/Yes the papers depend on tape/So they do not fall." Tucked in between the blasts of "Warm Hands" and "The Only One," we get the mellow country of "Talkin'." It sounds like a completely different band. The latter part of the album is more strummy 60s acoustic pop. Somehow, it all fits together.


2. Tift Merritt – Stitch of the World
Tift Merritt's new album, Stitch of the World, tells an elegant story of acceptance and resilience. The narrators here are mostly trying to find their way forward and shed what they realize is dead weight. They might be playful ("Dusty Old Man"), inspirational ("Heartache Is An Uphill Climb") or defiant ("Proclamation Bones"), but what they have in common is resolve in the face of uncertainty. That's where Merritt was, herself, when she was writing these songs. She had gone through a divorce in 2013 and moved from New York back to her home town of Raleigh, North Carolina. She was also pregnant during the recording and mixing process. Past and future converging, letting on go and embracing the other. "He say, 'Love me enough to right my wrongs/Love me until the scars are gone," she sings on "Dusty Old Man." On "Heartache Is An Uphill Climb," the narrator is still in the middle of her struggle, bracing herself for those final steps to someplace more free. "A broken heart holds only fear/What I told mine through my tears/Whatever it is that you feel/You best be bigger than this hill," she sings. The narrator in "Proclamation Bones" is sending out a call to forget life can get messy, to just live however you can. "Every road gonna disappear/The fate of man is still unclear," she sings, "So why don't you come meet me here/Tonight, tonight, tonight." Co-produced by Merritt and Sam Beam of Iron & Wine, the music has a big, roomy sound, similar to T. Bone Burnett's production style. And it fits well, stylistically and sonically, on a shelf with Emmylou Harris, Lyle Lovett, and Rodney Crowell. Nuanced and layered in texture and message, quiet strength and beauty.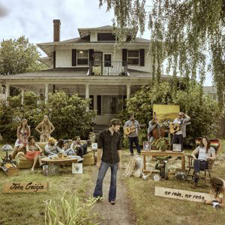 3. John Craigie – No Rain, No Rose
After listening to John Craigie's latest, No Rain, No Rose, it was interesting to see the YouTube trailer for the album. It confirmed my feelings about the music, how it feels lived in, harmonious. The product of joyful musicians playing together. Even on the more melancholy numbers, an optimism shines through. "Your daddy knows and he says this, too, shall pass/But you wake up in the morning trying hard not to look back," he sings on "Broken." Acoustic guitar and bubbling banjo drive the track, with a rich-sounding fiddle solo, and a dash of harmonica to add a lonesome feel. Craigie's take on the Rolling Stones' "Tumbling Dice" is too well-orchestrated to have been completely spontaneous, but it has the relaxed feel of a group playing a song they just discovered everyone loves. In the album trailer, you can see everyone recorded in one big room, and that's reflected in the feel of the music. Whatever Craigie may be singing about, he's doing it in good company. "I hate the morning for every possible reason/'Cept for the chance I get to try again," he sings on "Highway Blood," which features the Shook Twins and Gregory Alan Isakov singing in the background. Friendship is a big part of the hopefulness. "One more time, one more time, rub your face against my face/Mix our tears, let 'em smear," sings Craigie. Of course, he's left a lot of exchanges between the musicians on the ends of songs to reinforce the idea of collaboration. I've always enjoyed that on albums like the Pixies' Surfer Rosa or Tom Petty and the Heartbreakers' Damn the Torpedoes. It's even more important on a modern folk album like this. Community is supposed to be part of the folk tradition, songs friends and strangers can sing together. The song is the thing, and there are some beauties, like "Rough Johns" and "Bucket List Grandmas," full of human grace and humor. But the singer, or singers, matter too.