MUSIC
1. Mike Watt – "Ring Spiel" Tour '95
I have very fond memories of ball-hog or tugboat?, Mike Watt's first solo album, the tour for which is chronicled in his new live release, "Ring Spiel" Tour '95. I was a college kid at the University at Buffalo that year writing for the campus magazine, and I drew the assignment to review Watt's show. I had reviewed the new album, and it was an eye-opener for me. It was packed with names from all the new bands that were exciting me at the time – Dave Grohl, Eddie Vedder, J Mascis. I'd mostly missed out on punk in high school, and heard Watt solo before I'd heard the Minutemen. Standing on the brink of a new world or music, I was eager and not well-educated when I asked the woman at the box office if I might interview Watt. She didn't think he'd mind if I asked him myself, so I wound up hanging out with the band until he came in from the band (jam Econo – check). He was extremely gracious. He proudly showed off a bullethole the white Econoline van had suffered on a drive through San Pedro, and seemed genuinely touched that the venue left Heineken in the fridge. Shortly thereafter, I learned how a gregarious, down-to-Earth guy could absolutely tear up a stage. The man played bass with his teeth, fer chrissakes. It was musically adventurous, loud, and wonderful in every possible way.
Ring Spiel captures that moment again for me, and I'm hoping (despite Watt's warning against nostalgia in "Against the 70s") it might find some new ears and mean something new and wonderful to them, too. Recorded at The Metro in Chicago on May 6, 1995, roughly six weeks after ball-hog was released, the album captures a blistering, furious set from Watt and his all-star cast. Eddie Vedder on guitar/vocals, Dave Grohl on drums/guitar, Pat Smear on slide guitar/vocals, William Goldsmith on drums. And of course, Watt on the thudstaff. The set list draws mostly from ball-hog, with a couple of fIREHOSE songs ("Makin' the Freeway" and "Powerful Hankerin'"), a couple of covers (Blue Oyster Cult's "The Red and the Black," Madonna's "Secret Garden," Daniel Johnston's "Walking the Cow"), an early version of Pearl Jam's "Habit" (which would be released on No Code the following year), and the Minutemen tune "Political Song for Michael Jackson to Sing." Watt's arrangements are always soulful and clever, and the ball-hog material shows off his stylistic diversity. "E-ticket Ride" sounds like James Brown gone punk (dig that holding off the snare on "four"). "Against the '70s" and "Piss-Bottle Man" are relentless rock. Watt's use of dynamics was often more savvy than his peers, as well. Listen to that lilting bass and vocals give way to that burst of drums and epic riff on "Drove Up from Pedro." Or how Watt whispers over the deep, deep groove of "Coincidence is Either Hit or Miss." I went back and listened to Madonna's original "Secret Garden" from her 1992 album Erotica and was shocked how ready-made for Watt is was, with its bass-heavy groove and spoken word. Credit to Watt for finding it. And also to Smear for his slam-poet delivery, broken up occasionally with what sounds like an homage to Bill Murray screaming "The lobsters are loose." Playful and intense is a hard duality to capture, but Watt embodies it, as a human being (from my limited experience) and a musician. You'll see that if you go see him play now, too. And if you're just starting here, I envy the experience ahead of you.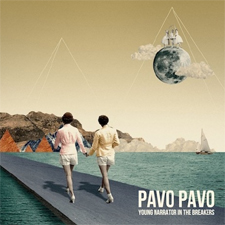 2. Pavo Pavo – Young Narrator In The Breakers
Before I say anything else about Young Narrator In The Breakers, the debut album by Pavo Pavo, let me try to impress upon you the beauty of "Annie Hall." It starts like an off-kilter calliope and it evolves into an ornate wall of sound and harmony, something like a modern Pet Sounds. It captures the feel of the "bridge scene" in that film perfectly, the one in which Alvy Singer and Annie Hall confess their love with the Brooklyn Bridge twinkling in the background, and Alvy says "love is too weak a word," and suggests "lurv" or luff." It's light and romantic, but just like the movie, you know it's not going to end well. "Did you really think/That you were the first to sink this sinking ship," sings the song's protagonist before declaring himself "hopeless." It's a sublime moment, and there are a lot of them on this album. It's an album to listen to on good headphones or speakers, if anyone has good speakers anymore. The sound is rich, and makes crafty use of stereo separation. It feels like you're standing in the middle of the band performing, a McCartney-like bass, fat with a short decay, on one end and synth and organ floating in from the other, modern and classic swirling together. It's a neat trick, giving a full range of motion to a sound coming at you from two flat speakers. There is a feeling this album was built with meticulous detail, like the best Beach Boys and Beatles albums. There are different movements in songs like "Wiserway" and "Ran Ran Run," and having both male and female lead vocalists helps the band blend together so you don't start to hone in on one voice, and thus one "character," at the center of the action. I'm not sure they mean it to be a proper concept album, but the band does say explicitly that the music "describes the magic and panic of adult life; a breaker is that wave whose potential energy is being transformed into turbulent kinetic energy." I'm not sure I would have said "magic and panic" (maybe once I've listened to it more frequently over a longer period of time), but the breaker metaphor is apt. This music does exist somewhere on a frontier of beauty where it is turning into something else, where you will have to leave beauty behind for something less certain and comforting.