Tonight, fans of horror and comedy get a Halloween treat when the pilot episode of Stan Against Evil from Dana Gould makes its debut on IFC. The official premiere happens Wednesday, when you'll get to see the first two episodes, which I previewed for my conversation with Gould for Episode 15 of the podcast. If you follow Gould's work, you probably know first, how funny he is, and second, that he is a big fan of all things horror. That has translated into a show that is packed with laughs, but also takes the scares very seriously.
John C. McGinley plays Stan, a sheriff in a small New England town who is forced to retire shortly after his wife's death. That's when he begins to understand the curse that has been laid upon him and all constables of his town, eternal revenge for the killing of 172 witches. He and the new sheriff, Evie Barret, have to defend themselves against all manner of ghastly attack, and once the storyline is laid out, the war is on. You can check out the trailer below.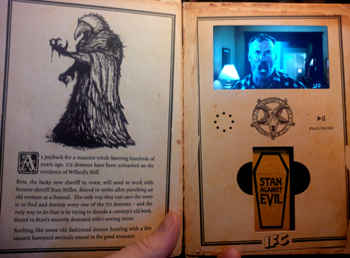 Gould spoke to the origins of the show, and how Stan is based in large part on his father, who would probably be deeply annoyed if an ancient curse arose to interrupt the Celtics game. I've always loved a good horror comedy, and we talked a bit about the mechanics that make those two elements work so well together. Since is the Department of Tangents, we did stray from Stan a bit to talk about The X-Files and Ghostbusters reboots, and the wonderful promotional items IFC sends out to the press. Gould also mentioned he is working on a new comedy special, so look for that next year. You can find more info about Gould, Stan Against Evil, and The Dana Gould Hour podcast at DanaGould.com.
Stan Against Evil Trailer: