MUSIC
1. ESP Ohio – Royal Cyclopean
I wrote a while back that it's been a great year for music, in terms of quality new albums and acts on the road. If you're a Guided By Voices fan, you're having an even better year. There has already been a new GBV album and a Robert Pollard solo offering, and now you have Royal Cyclopean from ESP Ohio, the new band from Doug Gillard, who has rejoined GBV in time for the next tour, and Pollard. A trick of the shuffle – when I first listened to the album on a drive, my iPod shuffled the order around, kicking off with "Sleeping Through The Noise," the title track, and "Tom Tom Small and Wonderful," and completely changing the color of the album. I thought it was going to sound like demos from Nursery Cryme-era Genesis (prog-haters, relax, there is no harpsicord to be foud). "Sleeping" especially has that majestic menace of Gabriel-era Genesis. The songs soon opened up into something more stylistically varied. "Miss Hospital '93" is jangly, uplifting pop with jaunty horns. I honestly don't have a handle on the story yet, but I enjoy what it evokes – a sense of the realization of well-being. "A Much Needed Shot In the Arm" is similarly invigorating, kicking off the album with churning guitars and Pollard singing, "Stimulate some fighting side of you/Pilot lights come on/No interference opinion or point of view/Shadow of doubt, be gone." The strangest tune, at least musically, is "The Ticket Who Rallied," with its breakneck tempo changes alternating between Black Sabbath sludge and buoyant pop. Listen to it in its intended order, and it'll keep you on your toes. It varies its punches, in style, mood, and even song length, and the effect is a wonderful surprise every few minutes.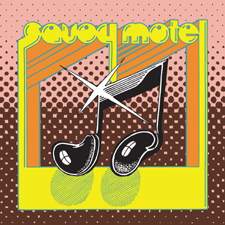 2. Savoy Motel – Savoy Motel
Savoy Motel's self-titled debut full-length is a lively brew of New Wave, R&B, and slinky 70s guitar rock. I heard Chic, Talking Heads, and The Guess Who in some songs, sometimes in the same song. If ever I write the type of cop drama where the detectives have to question the bartender at a club where all the hip people go, "Mindless Blues" is the song everyone will be dancing to. Or perhaps the clavinet-heavy (or clav-like guitar heavy) "Western Version Boogie," although folks might have a hard time figuring out what to do with themselves, rhythmically, during some of the breakdowns leading up to the solo guitar bursts. "International Language" starts out as a blazing guitar feature in the first half, then changes rhythm slightly to something a bit more groovy when the vocals kick in. Whole thing makes me wish I could dance.


3. RocknRoll Hi-Fives – The Beat the Sound of the Dragon's Roar (EP)
Some families bond over movie or pizza night. The Centenos strap on guitars and plays hard-charging Ramones-style punk with a touch of new wave. Joe Centeno founded the band, fronted by daughter and frontwoman Eilee, who also writes the lyrics. Mom Gloree plays bass and little brother Evren drives the operation behind the kit. They're a pretty tight unit, and most importantly, don't sound like a marketing contrivance. You can hear echoes of 60s girl groups in the melodies, something the Ramones also used to do to make the songs more tuneful. And there are some clever lyrics – "Don't hold me against my reputation," Eilee shout sings with perfect punk attitude on "(You Got Me) Tongue Tied." It'll be interesting to see what these guys are doing a few years down the road.