COMEDY
1. Maria Bamford – 20%
At the beginning of Maria Bamford's set on 20%, she gives the audience a warning. Most people probably know what they're about to see, she says, but sometimes you've been brought along by a friend and it's okay to leave. It's an acknowledgment up front that what's coming is a little strange. It may seem like a kind of throwaway introduction, but it pays off a few minutes later, when Bamford punctuates a routine comparing the impossibility of finding a mate to the unlikelihood of achieving her show business goals, which she has. "Happy anniversary to my husband of one year and to show business audience of twenty-five years," she says, "I love you far more deeply than the day we first met, and the fact the we all still have the free will to abandon each other at any given moment makes it all the more compelling." It's a hint of what it's like to walk around in Bamford's shoes. Every interaction with other people has the potential not just for mortification, but for personal annihilation. Everything good is ephemeral. Painting a ceramic dog bank as a gift for her parents becomes an eternal point of contention between her mother, who hates it, and her father, who hides money in it. As Bamford puts it, the bank is "the savory piece of gristle those two kids can tug back and forth over the course of their golden years." When she has a breakdown, a fellow comic brags to her that he's never missed a show, even when he lost control of his bowels onstage with a dangerous fever. "You've gotta make those fuckers laugh," the comic says. That makes Bamford feel guilty, and she feels the need to explain. "I guess I just… I was worried I wasn't able to think or talk and that might not be as funny as I'd hoped," she says. Her world is bewildering and sometimes terrifying, like a funny version of Kafka. Voices and characters are a big part of Bamford's presentation, and have been for a while. But where you might have gotten one at a time five or six years ago, now they come roaring out unpredictably at different points during a bit. There's no windup – she gets into and out of them quickly, and there might be three or four in a particular train of thought. If all of that is too strange, she understands. But there are plenty of compelling reasons to stick around.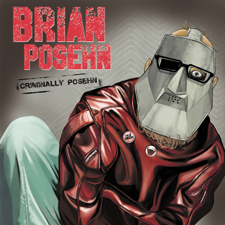 2. Brian Posehn – Criminally Posehn
Brian Posehn is still the metal-loving, horror-movie-watching, raunchy nerd he's always been. But on his new special, Criminally Posehn, in wide release today after the video was released on Seeso and an early Audible release, he is trying to reconcile all of that with how old he's gotten. The 49-year-old no longer knows what songs Weird Al is parodying, and he can't stand the hipster kid opening up for him and complaining about his life. Mostly because that kid is too young, with his mustache wax and unicycle and an iguana on his shoulder, to really have earned his self-hate. He was an awkward-looking kid. "Let's put a little beak on a human, what'll that look like?" he says, "Let's put a beak on a human and make a little bird boy… Let's give him a vision problem so it looks like his glasses came attached to his fucking nose." He went bald at 23, a crushing blow to a metal guy. And now he has let himself get fat, shocked that he hasn't choked from falling asleep in a hotel room with a "night-night treat" hanging out of his mouth. Which is not to say that Posehn takes himself too seriously. He takes his shots at "Diners, Drive-Ins, and Dives" host Guy Fieri, with the caveat, "I like to put cheese on gravy, and that fat bitch tells me where I can do that shit." He imagines an angry nerd at Comic Con changing his views on Lady Thor when he's getting a cosplay lap dance, and wonders why serial killers take on such weak prey. He'd like to see one go after a martial arts expert, or a former soldier who still remembers how to kill. If you get the Audible version of the album, you get an extra routine about Posehn's visit to a restaurant with no menu, where customers get whatever the owner wants to serve them, and their possible abuse of angels to obtain a secret ingredient (hint – it includes a fairly unpleasant excretion). It's personal, silly stuff for your inner teenager, who may or may not be on his way to crusty old man.

MUSIC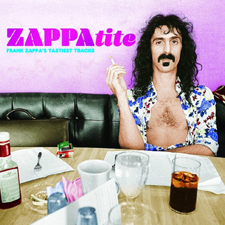 1. Frank Zappa – ZAPPAtite
The new Frank Zappa releases keep coming. Some of the albums, like the July release Crux of the Biscuit that filled in the history of making the Apostrophe album, are meant for diehard Zappa fans. ZAPPAtite is more of a "Zappa for Beginners." It's a fine collection of some of Zappa's greatest rock and roll songs, but the diehards will have all of this stuff already. Still, I'd encourage those who do to make their own playlist with the tracks from ZAPPAtite. Listening to "Cosmik Debris," "Dirty Love," "Joe's Garage," and "Dancin' Fool" together in one collection, an odd thought struck. Zappa has been praised for so many things – his range as a performer and composer, his satirical sense of humor, all of the "graduates" from his bands. All of that is represented here. But what I never hear is someone talking about how tuneful Zappa could be. "I'm the Slime" and "You Are What You Is" and so many others in this collection are first-class earworms. Even some of the more outrageous tunes like "Bobby Brown Goes Down" or instrumentals like "Peaches En Regalia" are hummable. The album is divided somewhat arbitrarily into three categories, Appetizers, Entrees, and Desserts. The first two are the more accessible songs and the last features his "virtuosity and singular live performances" like "G-Spot Tornado" and "Cocaine Decisions." Those categories make about as much sense as any other you'd try to impose on Zappa's catalogue. But it's all tasty, as promised.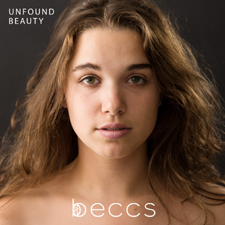 2. beccs – Unfound Beauty EP
On her debut EP, Unfound Beauty, Brooklyn-based songwriter beccs bares her soul to a jazzy pop soundtrack. She's acknowledging her faults, and searching everywhere for the help or inspiration that will pull her through. She wrote "Therapy" on a hospital piano where she was being treated for an eating disorder. "I believe that someday we will see ourselves as who we wanna be," she sings, talking about being in an abusive relationship with herself. "If you're scared of me, well damn, I'm scared of me, too" she sings on the next tune, "Scared of Me." The next song, "Waiting," is a lilting, wistful piano ballad. It almost sounds optimistic, but it's about someone trapped by their regrets, hoping something will come along and make them live their life. She turns "It's For You," a song Paul McCartney and John Lennon wrote for Cilla Black, into a burner, singing with a combination of tenderness and brass similar to Black, or Shirley Bassey for that matter. It's not until the closing title track that she allows herself to mention there might be "unfound beauty" buried in her somewhere, if she could find a way to unleash it.