MUSIC
1. Ian Hunter & The Rant Band – Fingers Crossed
Rock and roll is alive and well and living in Ian Hunter. After nearly sixty years in music, he hasn't run out of stories, and he hasn't run out of hooks. And he's inarguably prolific – he's releasing a limited edition 30-disc boxed set called Stranded in Reality this month that includes 17 original albums, nine discs of rarities and outtakes, and two DVDs covering 1975 to 2015. Hunter has developed his own distinct sound in his post-Mott the Hoople solo career without developing his own clichés. There's an ineffable quality to it – you know it when you hear an Ian Hunter song. Frequently that involves loud, riffy guitars, but sometimes it's a pumped-up Dyln-esque folk. Or a gorgeous piano ballad. Sometimes he's singing about a broken heart, sometimes it's a winking tale of a noble rogue. It's not as trite as a formula, but there's a thread that stretches back to Hoople in everything he writes, right through his latest studio album, Fingers Crossed. And he's not afraid to take on a big story or theme. "Bow Street Runners" is a five-minute epic of a reluctant hero trying to keep London from falling into chaos. "Dandy" is his tribute to his late friend David Bowie, who wrote Hoople's signature tune, "All the Young Dudes." These kinds of songs can get a bit maudlin if they're too on the nose, and he gets close with a couple of lyrics ("You turned us into heroes, can you hear the heroes sing?" and a reference to life on Mars) without crossing the line. It's a heartfelt tune, and there's a bit of "Dudes" in its DNA. "Dandy," he sings, "you blew us all away/Out of the drab and the grey/And then we caught the last bus home." The title track starts with a lilting piano line that submerges into the arrangement on the verses while still giving it a lift. There's a great emotion punch to the story, a man trying to escape the things he's had to do to survive. "So I make my confession with my fingers crossed," he sings. "Hang me high, hang me high, boys." He follows that up with a hilarious, rocking tune about a city couple moving to the country on "White House," which includes great interlocking acoustic and electric guitar lines. "We got birds/We got bees/We got lots of allergies," he sings. When he sees the cute bunny rabbits playing in the forest, all he can think is that he wishes he had a gun. And somehow, a 77-year-old guy can still speak to the confusion of adolescence and sound poignant ("Stranded In Reality"). Just part of the man's astounding timelessness.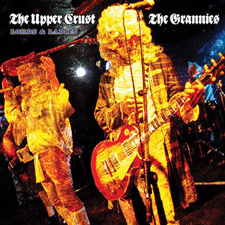 2. The Upper Crust/The Grannies – Lords & Ladies
Why wouldn't The Upper Crust and The Grannies share a split live LP? It almost seems inevitable. Both bands wear funny costumes, both rock hard, and both have a particular sense of humor. Boston's Upper Crust dress (and act) like 18th century royalty and rock like 70s-era AC/DC. San Francisco's The Grannies dress like old women from a horror movie and play loud punk rock. Neither band take themselves too seriously, and both write gloriously goofy lyrics. When you back that up with actual chops, it's a hard combination to beat. It's why you can't dismiss either band as a novelty, and why this album, removed from the concept of the stage show, still works musically for both bands. That said, I can vouch for the live Upper Crust experience, having seen them play Boston. Saw them open for Tenacious D here once, and it was a perfect fit. Really no one else should open for the D.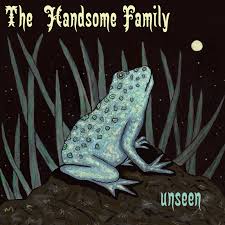 3. The Handsome Family – Unseen
It's fitting that so many fans are coming to the Handsome Family because of their association with a cinematic TV show like True Detective (their "Far from Any Road" was the opening tune). The husband and wife team are visionary Americana storytellers. The songs on Unseen are as evocative as any film, rooted in a strong sense of place and emotion. They capture the barely-internalized desperation of a flashy casino in "The Silver Light," with its forest of slot machines and free drinks. "Will you see the silver light," sings Brett Sparks in a kind of country gospel, "Can you see the silver light/Can you see it hiding there in your empty hands?" And oh, those beautiful harmonies, anchored by that deep, resonant bass voice. Brett and Rennie sing simply and beautifully on "Tiny Tina," taking you to the midway at a state fair to see the hypnotist and forgotten country music stars. "Gentlemen" is the one that gets me, a country tune I could imagine being sung by Ralph Stanley, nestled into a bed of harpsichord and gently-twanging guitar. I imagine a somber flock, gathering their resilience as they are told the news that the world is changing, and they can't fight it. "Gentlemen, the world grows dark/Gentlemen, the curtain's moved/Who's with me here, whispering in this room?" Chilling. It doesn't get better.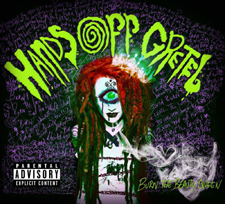 4. Hands Off Gretel – Burn the Beauty Queen
The first thing I thought when I heard Hands Off Gretel's new album, Burn the Beauty Queen, was Nirvana. It might be unfair to saddle the music with that comparison, considering the legends and myths and throngs of die-hard fans that come with it, but what I felt was a similar intensity, in the sound and the attitude. Gretel can pound you sonically. They've got a quality I heard in a lot of bands on the 90s, just the right mix between hard rock, metal, and punk, hovering somewhere in among those sounds without landing in any particular one. I was hesitant to invoke the word "grunge," but they use it to describe themselves, and it fits. Great fuzzy guitars and aggressive vocals. Lauren Tate, the woman in the center of the band, can sing like a banshee, does the artwork for the band, and has charisma to spare. Listen to "One-Eyed Girl," which is both an invitation and a challenge, a seduction and a kiss-off. "Come with me, you have to see the ugly one-eyed girl," sings Tate, assuming the role of a carnival tent barker, luring with the promise, "I guarantee she'll kiss you back." They're a gonzo unit. Whether they're trying to be funny, disturbing, or empowering, they're completely committed. And it doesn't seem forced. They aren't settling. "Why can't I have the sun?" Tate screams on "Teethin'." "My god, I feel so brave, to hypnotize and get my way," she sings on "World Against She." And she starts the album with what, at the beginning of the song is a realization, but by the end is a declaration, "I am the queen of the universe." Feel free to differ, but you're on your own.