One of the main reasons I started this blog was to write about things I love. And I have loved Paul McCartney since I first saw the Beatles in Yellow Submarine in the sixth grade. That was when I first started to like rock and roll, broadening from my previous musical experience, which was limited to country music, the Oliver soundtrack, and The Muppets. The music was amazing, and the band was funny and absurd (I didn't know it wasn't really their voices or script until later). They also seemed historical and remote, and I was amazed to find not long after that McCartney, Ringo Starr, and George Harrison were still making music.
Simple as that realization was, it connected time for me in a way that hadn't quite seemed possible before. This was the early 80s, and in truth, it hadn't been terribly long since the Beatles were still together. But all the footage I'd seen had a tint of age, either black and white or a low-resolution color. There is a point when you're a kid when life is only "now" and distant history. Knowing there were living, breathing, and most importantly, still creatively vibrant Beatles roaming the planet drew a line between the two. On top of it, Ringo and Paul both toured. I got to see Ringo in 1990 on the first All-Star tour. I didn't think it would take me thirty years to see McCartney, but there I was in line tonight outside of Fenway Park in Boston, waiting to see him for the first time.
There are a lot of recurring themes when you read reviews or talk to people who have seen McCartney with his current touring band – consistently Brian Ray (bass/ lead and rhythm guitar), Rusty Anderson (guitar), Wix Wickens (keyboards/harmonica), and Abe Laboriel Jr. (drums) since 2002. McCartney still has his voice. The sets are an engaging mix of classics and newer stuff. The band is killer. And overall, McCartney puts on one of the best rock shows around. These things all applied to tonight's show. McCartney still looks spry at 74. And while he might not be able to hit that Little Richard-like falsetto all night like he used to, he paces himself so he can hit it when he needs to. And does he ever know when to hit it.
The show started with the unmistakably frabjous opening chord of "Hard Day's Night," McCartney thumping on his Hofner bass right into "Save Us" from his 2015 album New. Announcing that the band had some "old songs, new songs, and some in-between songs, so let's go!" he launched into a thundering "Can't Buy Me Love" that shook the tall video screens on the side of the stage. They followed that with the Wings tune "Letting Go" and then "Temporary Secretary" from McCartney II. That's 1964 to 2015, back to 1964, on to 1975 and then 1980 – a lot of ground to cover in the first five songs of a set. And that's just a small taste of the history McCartney has to draw from.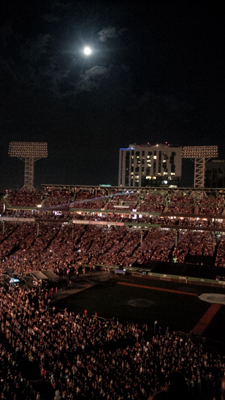 It was still light out when McCartney hit the stage around eight, and the beautiful gibbous moon, to which McCartney paused at one point for a quick hello, showed up about an hour into the set. There's something to that, a little magic that happens to make a show feel both more cozy and expansive when it starts in the sunshine and ends with moonlight. Time once again moving in more than one direction.
That time-traveling magic works for the songs, too. McCartney's latest albums don't garner the same kind of respect as his older solo material did. But all mixed together, they just sound like McCartney songs. "Save Us" and "Letting Go" don't feel like songs released 30 years apart. "New" has a classic McCartney bounce that didn't feel out of place in the same set with "Lady Madonna" and "Obla Di Obla Da." Not all the songs are equal, but they McCartney knows how to build a set. Every song in tonight's set worked perfectly as a whole, musically and emotionally.
It would be foolish to deny that nostalgia had nothing to do with how much the crowd enjoyed Sunday's show. But it was also heartwarming to see a group of 20-somethings headbanging to "Temporary Secretary" and throwing up their arms at the end of "life goes on… bra!" a few rows in front of me. Or a man in his fifties hugging his teenage son, shaking him, and yelling "Paul McCartney!" before the show and then watching that kid take photos throughout the show. The crowd was diverse in terms of age, and all of them seemed passionate about the music. Whatever the nostalgia quotient, it meant something different to each one of them.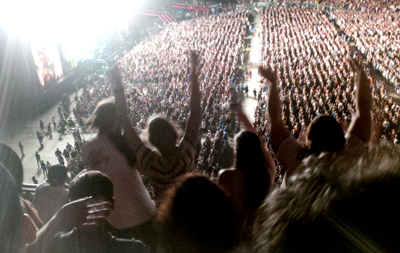 It would also be hard to argue that nostalgia wasn't based on quality songwriting and a creative set list. Song number twelve was "Maybe I'm Amazed." For just about anyone else, this would be the big emotional closer. For Macca, it marks the end of the first third of the show, which was followed by a Beatles-heavy acoustic-based second set (with no break in between). Sandwiched in between the accordion-driven arrangement of "We Can Work It Out" and a relaxed take on "You Won't See Me" was a Quarrymen song, "In Spite of the Danger," a sweet country rocker. McCartney said it cost the band five pounds to make the original amateur recording, which I believe you can hear on YouTube, though I can't guarantee it's the recording to which he is referring.
That set flowed naturally into McCartney solo on acoustic guitar, introducing "Blackbird" as a song he wrote for those who were going through the tumult of fighting for civil rights in the U.S., "that might give them a little bit of hope." He also asked the crowd how many tried to learn to play the song when they were kids, and after a good number of cheers, said, "See? And they all got it wrong." It was a hell of a one-two punch with a stunning "Here Today," which McCartney wrote about John Lennon for 1982's Tug of War. "This next song is in the form of a conversation we never got to have," said McCartney. He probably announces the song the same way most nights, and it may have just been the fact that his voice was getting rough nineteen songs into the set, but McCartney still sounded choked up afterwards when he said, "Remember, you want to say something to somebody, get it said."
It was another emotional switch to newer material after that with a playful "Queenie Eye," and a run of hits to the end, the exception being a vastly different reading of last year's collaboration with Rihanna and Kanye West, "FourFiveSeconds." A backbeat makes a big difference. And it sounded like a lot of folks were singing along. After that, the night could have easily ended with "Band On the Run" into "Back In the U.S.S.R., but why not up the ante? Why not end with "Let It Be," a flashpot-and-fireworks-punctuated "Live and Let Die," and "Hey Jude." What other living artist can pull off a trifecta with that much firepower? Also, "Let It Be" with "Live and Let Die" was an interesting contrast. What are you trying to tell us, Paul?
I've heard McCartney play "Hey Jude" in so many situations, from live CDs to television appearances, that I thought I never needed to hear it played again. But hearing the band rumbling the concrete under me and a stadium full of people singing along, it's hard to resist. And I tried. But not for long.
The encore included a couple of special guests, including Bob Weir, still in town after the Dead played Fenway last week. McCartney introduced him, surprisingly, as "someone I've never played with before, but I always wanted to." Weir sounded great adding fills and solos to "Hi Hi Hi" and "Helter Skelter." The other special guest was ubiquitous New England Patriots tight end Rob Gronkowski, who hammed it up playing air guitar on "Helter Skelter," and grabbed the mic afterwards to announce the Patriots were going to light it up this year. Funny, but when I got home, Bill and Ted's Excellent Adventure was on TV, and I felt like that moment repeated itself when a student ended his speech by shouting "San Dimas High School football rules!"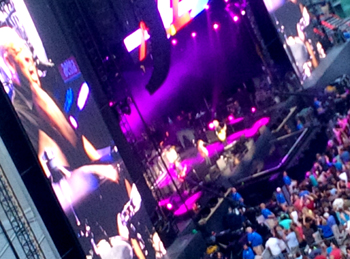 A moment for drummer Abe Laboriel Jr. The man is a beast behind the kit, and got to let loose on the drum solo in "Golden Slumbers/The End." He was also the main background vocalist, and came up earlier in the set to sing "Eleanor Rigby" side-by-side with McCartney. There are few musicians who look as blissful when they play, and he is a perfect foil for McCartney. During a hard-driving "I've Got a Feeling," he played along with one hand so he could reach up and playfully brush his bald head with the other on the line, "everybody let their hair down."
No one can blame Abe for being so blissful. He has one of the best jobs in music – he gets to watch this show every night. The 13-year-old budding drummer I was so long ago wanted that job desperately. But the 43-year-old me was delighted to sit back on a gorgeous summer night and watch him do it.
(Written July 17, 2016)
Paul McCartney Set List
Fenway Park 7-17-2016
1. Hard Day's Night
2. Save Us
3. Can't Buy Me Love
4. Letting Go
5. Temporary Secretary
6. Let Me Roll It
7. Foxy Lady (instrumental)
8. I Got A Feeling
9. My Valentine
10. Nineteen Hundred and Eighty-Five
11. Here, There, and Everywhere
12. Maybe I'm Amazed
13. We Can Work It Out
14. In Spite of the Danger
15. You Won't See Me
16. Love Me Do
17. And I Love Her
18. Blackbird
19. Here Today
20. Queenie Eye
21. New
22. Fool On the Hill
23. Lady Madonna
24. FiveFourSeconds
25. Eleanor Rigby
26. Being for the Benefit of Mr. Kite!
27. Something (uke solo, full band)
28. Obla Di Obla Da
29. Band on the Run
30. Back In the U.S.S.R.
31. Let It Be
32. Live and Let Die
33. Hey Jude
ENCORE
34. Yesterday
35. Hi Hi Hi
36. Helter Skelter
37. Birthday
38. Golden Slumbers
39. The End