Fretting about the future of music is the music fan's national pastime. There will never be a time when someone isn't saying, despairing and disparagingly, "Music's not what it used to be." And in a year that has already seen the loss of David Bowie, Prince, Merle Haggard, Guy Clark, and dozens of others, it's been a harder stance to argue against. But I can't help but feel it's been a fantastic year for new music already, and it's going to get better.
I do not wish to insult the memory of the icons that have died this year nor underplay the gravity of their absence. But I'm not willing to concede the joy I have felt listening to The Jayhawks perform earlier tonight in Boston to that loss. Or the joy I felt listening to new albums by people I already knew I loved, like the aforementioned Jayhawks, and Robbie Fulks, Paul Simon, Richmond Fontaine, and Sturgill Simpson, or the psychedelic fever dreams of The Claypool Lennon Delirium. Or albums by people whose music I'd never heard before this year, from Adia Victoria to Al Scorch. Writing the New Release Roundup for this publication every week has given me more reason to anticipate new music, and dig through a mountain of press releases to find things I don't know. And that's rewarding every week.
And that's just the recorded music. I found Rodrigo Amarante this year, as well, through a press release touting a mini-tour in support of his amazing album Cavalo, released in the States in 2014. I caught him doing a spare and beautiful set at the intimate Portsmouth Music Hall Loft in New Hampshire in a seat so close I felt strange to look directly at him.
I caught Alejandro Escovedo there, too, another of my favorite songwriters. Not only does he have a new album collaborating with R.E.M.'s Peter Buck coming out, likely in September, he is also newly free of hepatitis C, something that once threatened to take his music away from us after he collapsed onstage in 2003. He's released four full-length studio albums since then plus an EP with The Fauntleroys in 2014. His opening act was a country singer-songwriter from Alberta, Canada named Lucette. Her debut album, Black Is the Color, was produced by David Cobb (Jason Isbell, Chris Stapleton) in 2014, and I'm looking forward to hearing more from her.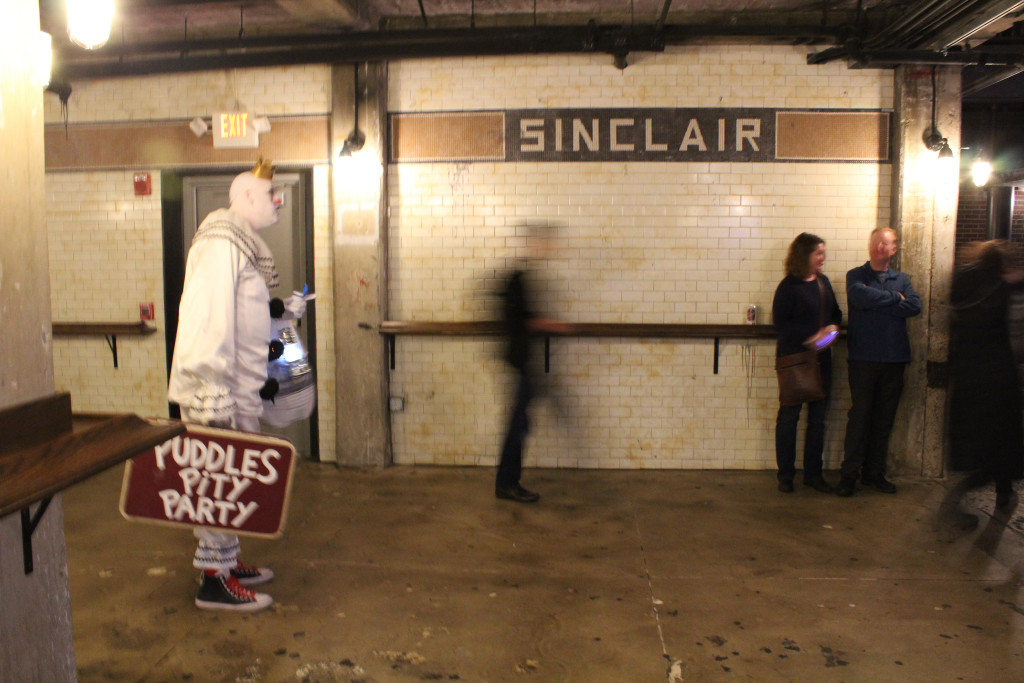 I have seen plenty of remarkable shows so far in 2016. In January, I got to see a six-foot-eight clown called Puddles with an operatic voice and a keen sense of comic timing play a sold-out club gig. Peter Mulvey, who also has new music in the works, was his usual charming and erudite self at a gig in a church hall in February. March brought former Gaslight Anthem frontman Brian Fallon to town testing his sea legs as a solo act supporting his new album, Painkillers. In April, I got to see Jon Dee Graham at a cozy club called Atwoods at four in the afternoon, doing two sets and entertaining in between songs with his storytelling skills. I caught up with Fulks at Club Passim in May and spoke with him for the June 15 edition of the DoT Podcast.
The Jayhawks show almost missed that like. I almost didn't go. There were a lot of reasons to stay home. I was tired, not feeling terribly well, had a lot of work to do. Even after I got there, security was tight and wouldn't allow me to bring a Kindle into the show, so I had to walk several blocks back to my car to toss it under the seat. I have some health issues that sometimes make energy a problem, and I thought about just going home, finishing up some work, and going to bed. Then I thought about how happy I was when my friend Tom put Hollywood Town Hall into his car's cassette player sometime around 1990 and said, "You gotta hear this, it's like Neil Young." The hours I spent driving between Buffalo, Rochester, and Boston singing those songs. Singing "Martin's Song" in the subway and playing drums and trying to nail the high harmonies on "Tailspin" with some friends in a pickup band. And then I marched my sorry ass back through Chinatown to the show.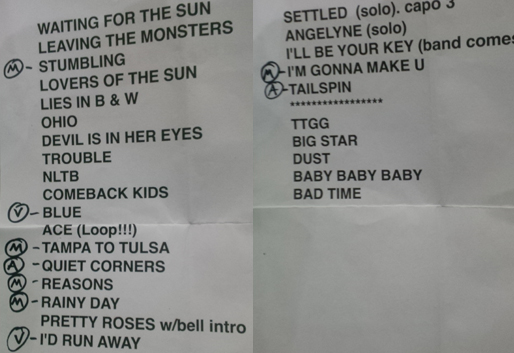 I was rewarded for that immediately when they opened with "Waiting for the Sun" from Hollywood Town Hall, Gary Louris extending the opening solo with that gorgeous wave of crackling distortion from his SG. It felt like a telepathic thank you. The whole band was on. Marc Perlman, a founding member, as Louris reminded the crowd, laid down a ferocious groove on "Ace" from the new album, a song that came in the middle of the 23-song set as a rare jam session, with Louris making a mighty grumble huddled over his pedal board. Drummer Tim O'Reagan was crisp and provided tight harmonies, sometimes joined by Karen Grotberg. Grotberg's keys were the soul of many a song tonight. Her bubbly church organ on "Somewhere in Ohio" from Smile gave the song its bounce, and her Hammond was much more prominent on the live version of "The Devil Is in Her Eyes" than the version on the new record, Paging Mr. Proust. The core band was formidable, supplemented by an electric guitar player and a utility mandolin, violin, and acoustic guitar player. The new stuff felt pretty comfortable alongside Jayhawks classics like "Blue" and "Save It for a Rainy Day." The poppy "Pretty Roses in Your Hair" gave way to the set capper, a triumphant "I'd Run Away," the band nailing the symphonic opening strains over pounding drums.
The encore was perfectly tailored, starting with Louris playing a solo acoustic "Settled Down Like Rain," then joined by Cathy Guthrie and Amy Nelson from opening act Folk Uke, whose harmonies pulled "Angelyne" closer to its country roots. The rest of the band came back for the delicate "I'll Be Your Key," Louris pushing to top of his falsetto, and then ended with "I'm Gonna Make You Love Me" and a ripping version of "Tailspin." When I spoke with Louris briefly after the show, he said he was thinking about a new solo album, partly because he has a lot of material that wasn't on the new Jayhawks album that would sound a bit different.
There are more shows to come in 2016. I've seen Jason Isbell in Boston supporting his Grammy-winning album Something More Than Free, and I'll see him again in Philadelphia this weekend with Chris Stapleton and Frank Turner. Next month, I'm heading back up to New York to see Bob Dylan with my family. After that, I will see Paul McCartney for the first time since the Beatles added rock and roll to my previous all-country playlist when I was in sixth grade. I have tickets to see Sting and Peter Gabriel together in Worcester, and plans to see John Paul White in Boston. And there are many more I'm sure I'll go to last-minute, fighting a little fatigue and pushing myself to go, knowing it will be worth it.
Live music is a soul-nourishing thing. And I count myself lucky that not only do I get to see legendary musicians and maybe a few soon-to-be legends, I also get to go out to some small stages and play it myself, and watch friends creating their own music. It's hard not to feel optimistic about music in that context. And if I've learned anything from the unrelenting musical obituaries in 2016, it's that, more often than not, I need to buy those concert tickets. Because seeing real people playing music is invaluable, inspirational, and will always be a living, breathing art. And there's still plenty of time to experience it in 2016.