Steve Martin and Martin Short: An Evening You Will Forget For the Rest of Your Life
April 6, 8 PM
Wang Theatre, Boston, Ma
Steve Martin and Martin Short made the weight of their collective histories in comedy felt before they even hit the stage Wednesday night at Boston's Wang Theatre. The lights went down on a montage that opened with Short in "Martin Scorcese's Jerry Lewis: Live on the Champs Elysees" from SCTV, Martin doing "King Tut" on Saturday Night Live, and dozens of familiar clips from movies and television. These are two people whose legacies in comedy are secure, and it felt like the crowd would have been happy to just watch clips all night (though they would lament the ticket price).
Martin came out first to do a little opening patter, complaining about the "Employees Must Wash Hands" sign in the bathroom. "I could not find one employee to wash my hands," he joked. Short soon joined him for a quick duet which poked fun at their celebrity. "Our egos need attention like Chris Christie needs cake," they sang. They did the fake Hollywood schmoozy-thing, with Short gushing what an honor it was to be there. "It's more than a thrill, it's an obligation," he said, noting that he and Martin like to call the show, "If We Had Saved We Wouldn't Be Here."
Of course, neither of them really need to do this show for any other reason than they enjoy their company and they want to. The show was their personal playground. It was mix of talk show/podcast, sketch comedy, and musical – whatever they wanted to do. Much of the first half was the two of them just talking and asking each other questions. Martin told a stories about auditioning, indirectly, for the Dean Martin Show, doing his act for a secretary who then did the act for Dean Martin. Short talked about an embarrassing moment having his legs Naired hairless to play a ten-year-old in Clifford.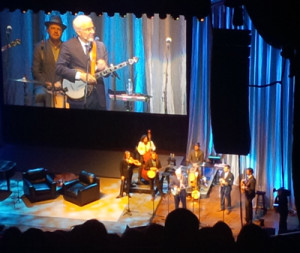 Martin's frequent collaborators in bluegrass, the Steep Canyon Rangers, and Jeff Babko, keyboardist for the Jimmy Kimmel Live band, provided musical accompaniment, and the Rangers did a song on their own. (For those who are interested in such things, the drummer played what could only be described as a cocktail cajon – twice the normal size and with a deep-sounding kick). Jiminy Glick made an appearance as Martin's ventriloquist dummy to riff on celebrities and politicians, Martin sang a murder ballad with a surprise ending, and the audience even got to see photos of the pair goofing off in St. Bart's with inflatable alligators and sand pails. It was all over the place, a fun, relaxed evening.
Martin and Short are in two very different places in their careers when it comes to comedy. Martin has only dabbled in live comedy in his capacity as bandleader with the Steep Canyon Rangers since he left the stage decades ago. He has a show on Broadway now and an exhibit at Boston's MFA. He is no longer the "wild and crazy guy" with an arrow through the head and a garish white suit, and there was none of that gonzo oaf in his voice. That was fine – he's been away from that for so long that going back to it would seem like pandering. What Martin is now is much more refined and precise. There are traces of the pompous character he used to play, but that guy has grown up, too. (On a side note – it struck me at several points during the show how much of a debt Stephen Colbert owes to Martin for that). Two things that will never change, though – Martin still has amazing timing (time… time-ING…) as a comedian, and then as now, he sure can pick a banjo.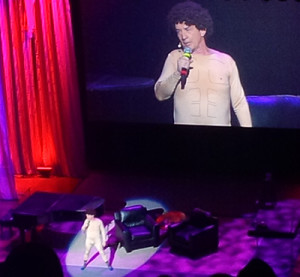 Short, on the other hand, is still a comedy animal. When he got his first solo time onstage, he crawled onto the piano to show off his multi-colored socks, imitating the scene where the witch legs disappear under the house and singing "As coroner, I must aver." He squirmed out of his clothes, introducing a musical number he said he once did in all-nude musical and stripping down to a body suit with… bits… drawn on it. With that, he revived the song "Step-Brother To Jesus" from his 2006 Broadway show Martin Short: Fame Becomes Me. The song is a real show stopper about the leper Joseph knew, Biblically, before he met the Virgin Mary and her progeny. In one of the more wonderfully absurd moments late in the show, Short entered wearing a kilt and Scottish tam opposite another similarly-dressed gentleman (did not catch his name). When they met center stage, Short jumped into the man's arms, stuck his thumb in the man's mouth, and began to whine/warble "Amazing Grace."
The night ended with a standing ovation, an obligatory encore consisting of a song of contractual obligation that might be called "Five More Minutes to Fill," and then a second standing ovation. The audience's adoration was likely as much or more about what Steve Martin and Martin Short had done in their stellar careers as anything they did at the Wang. And deservedly so. But these are two funny people who have known each other for thirty years, and it was fun to hang out with them for an evening.